Lower valley and Mont Avic
An area that offers alpine environments of rare beauty, such as the Champorcher Valley and the Mont Avic Regional Park, as well as numerous surprises for culture lovers, such as castles and Roman remains, and entertainment at the Saint-Vincent Casino.
Bard
-
5 February / 5 June 2022
Exhibitions

The Fortress of Bard is the first Italian venue for the 57th Wildlife Photographer of the Year exhibition, the world's most prestigious nature photography contest, run by London's Natural Histor…
Verrayes
-
26 / 29 May 2022
Wine and gourmet festivals

The Feta de la sarieula (wild thyme) is, therefore, an opportunity to learn about and appreciate this wild herb that is used to cook a variety of dishes.

San Martino (the Bishop) and his adversary Satan, then the Roman Consul, the Tribunes of the People, the Roman Guards and their Officer and, lastly, the Lily Nymph accompanied by her two Maids ar…
Aosta
-
5 June 2022
Music

The final day of Floralies 2022 will take place in 9 municipalities of the Valley. The intention of the initiative is to combine music with the territory, recognizing the role that choirs an…
Bard
-
25 June 2022
Sport

Six stages in June and July during which the practice of Yoga is combined with the discovery of fascinating places rich in history of the Aosta Valley region.
Various locations
-
5 / 9 July 2022
Sport

Scheduled to take place between July 5th and 9th, 2022, the first edition of the race will see ebikers tackle the Aosta Valley's new single trails, setting up camp at Cogne, Gressoney…
Various locations
-
13 / 17 July 2022
Sport

The Valle d'Aosta Bicycle Race is a prestigious and challenging race for good climbers. It has been a launching pad for many great professional cyclers such as: Gianni Motta (winner in 1963), Flavi…

"Concours Batailles de Reines" elimination phase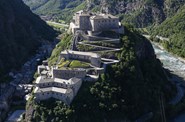 A trip around the little villages in the Aosta Valley proves a pleasant surprise. Enjoy one with this offer, which combines history and culture with relaxing and fine food.