Monte Rosa
The Ayas/Champoluc and Gressoney valleys climb up towards the huge Monte Rosa massif, leading the visitor on a voyage of discovery through the culture of the Walser people, villages boasting typical local architecture and vast ski areas.
Various locations
-
15 / 16 October 2022
Wine and gourmet festivals

The community ovens of many villages in Aosta Valley municipalities will all fire up on to bake the traditional black bread.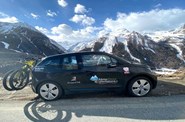 Visit the Aosta Valley in complete freedom, driving a silent, non-polluting BMW i3 electric car.