Monte Rosa
The Ayas/Champoluc and Gressoney valleys climb up towards the huge Monte Rosa massif, leading the visitor on a voyage of discovery through the culture of the Walser people, villages boasting typical local architecture and vast ski areas.
Various locations
-
21 June 2020 / 28 June 2020 / 5 July 2020
Sport

The Yoga Mountain Festival presents many activities, throughout June and July, during which the practice of Yoga is combined with the discovery of fascinating places rich in history of the Aost…

Gressoney celebrates again its Bierfest with plenty of good beer, music and happiness!
This beer festival is the perfect chance for trying excellent German beer.
The atmosphere is similar t…

This skyrunning competition is supported by the association "MonteRosa Races & Events A.S.D." and it makes it possible to discover the historical and cultural heritage of the valleys at the foot o…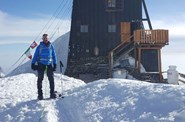 The most classic and popular ascent of Monte Rosa.